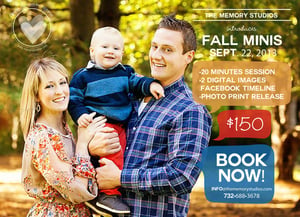 $

150.00
Sept. 22, 2013 20 minute session for up to an immediate family of 6 at my home location outdoors. Includes 2 digital files, a facebook timeline and a print release. You will get a gallery with 10-15 images to choose from. No discounts or coupons can be applied to a mini session.
Pre-purchase the session with the disk now for $300, or after the session you can purchase the disk for an additional $250.
We will email you to select a time for your session or you can email us with your preference.